How do you invest in your own personal development when time is short and training budgets are tight?
It's a challenge we're all faced with.
I often ask executive coaching clients, "How would you summarize your personal development strategy?"
Typical responses range from going to workshops and conferences to reading books.
How would you respond?
What is your strategy?
If your strategy does not currently include listening to podcasts, I challenge you to make this the year that you try them out.
Podcasts?
Think of podcasts as pre-recorded radio shows that you can download onto an MP3 player or listen to on the web. It's really no more complex than that, and programs such as iTunes make it as simple as "subscribe and synch."
What's the Big Deal?
I had the opportunity to interview Zig Ziglar a couple years back.
Zig told me he calls it "Automobile University": tapping into free learning during your commute. Though he was talking about books on tape or CD, that's really what podcasts are for us: whether it's commute time, workouts, or other time when you could be pouring into yourself.
Rarely do I listen to the radio when driving these days.
More likely than not, my iPod is plugged into the stereo system and I'm listening to music, teaching, or entertainment that I choose (as opposed to what happens to be currently broadcasting in my area at the time).
The big deal is you can take advantage of targeted learning when it's convenient for you. And in most cases the price is right on the mark: free.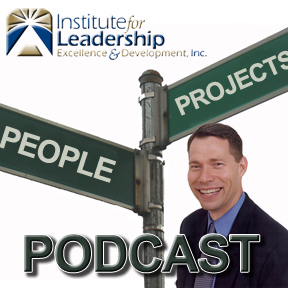 How Do I Get Started?
The vast majority of people who subscribe to my
People and Projects Podcast
subscribe via iTunes. If you don't have iTunes on your computer,
click here
to download it for free.
Once in iTunes, click on the link for the iTunes Store.
This is where you can purchase music, videos, and iPhone apps. But it's also where you can get easy access to podcasts. Look for the "Podcasts" link in the iTunes Store area on the left.
From there you can start browsing for podcasts that look interesting to you.
Click on the name of a cast and listen to all or part of an episode. If you like what you hear, click the Subscribe button. This means every time a new episode is available, iTunes will download it to your computer automatically.
If you have an iPod, you can have it automatically synch your podcasts so you have the latest episodes with you.
You can find the
People and Projects Podcast
on iTunes by following this link:
http://www.tinyurl.com/ppcast
. We have episodes already published on topics such as social networking, project sponsorship, the myth of multitasking, and how to develop rapport and trust when you're presenting. New episodes are published regularly and you get it all for free.
What If I Don't Have an MP3 Player?
No problem. You can listen to podcasts directly in a tool such as iTunes.
Or you can listen to most podcasts directly from a web browser. For example, you can listen to our People and Projects Podcast from the web at
http://www.i-leadonline.com/podcast
.
Visit sites such as
Podcast Alley
or other podcast directories to get access to countless opportunities to learn.
So, What Are You Waiting For?
If you're not currently using podcasts for personal development, now is the time to get started!
Click here
to subscribe to The People and Projects Podcast on iTunes.
If you are currently listening to podcasts, what are some of your favorites? Reply to this post with your favorites as I would like to highlight the most popular in a future update.
Thanks! Have a great week!